6 Simple Ways to Help Ease the Pain of Sensitive Teeth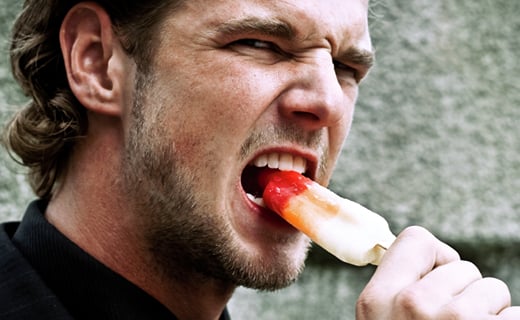 Is crushed ice your worst nightmare? Do you have to let your coffee cool before you can drink it? If so, you may have sensitive teeth. It may not sound serious, but it can turn your favorite foods into sworn enemies and make brushing and flossing a nightmare. Tooth sensitivity can be caused by tooth damage, trauma, gum disease, or even normal gum recession and worn enamel. To make sure your symptoms aren't due to a serious condition, see an affordable dentist for a routine check-up and be sure to practice good dental care. If your problem doesn't require professional dental treatment, the following simple remedies may help.
6 Ways to Fight Tooth Sensitivity
Use toothpaste designed to treat sensitive teeth. Be patient; it may take a few weeks to work.
Try using a fluoride rinse. This is especially helpful for those with tooth decay.
Practice good oral hygiene. Plaque buildup irritates sensitive nerves.
Switch to a soft toothbrush. Hard brushes damage tooth enamel.
Avoid chewing tobacco and snuff. They cause gum recession and tooth decay.
Avoid hard candies. Try sugarless gum instead.
Know When It's Time to See the Dentist
In some cases, your sensitive teeth may require professional treatment by a family dentistry expert, especially if home remedies aren't working or you notice a change in the color of your gums or obvious tooth decay. After your dentist in Indiana corrects the underlying cause of your tooth sensitivity, you'll soon be able to enjoy your favorite foods and beverages without flinching.
To get the dental care you deserve from an affordable dentist in Indiana, call Wadas Dental today or make an appointment.
---
Wadas Dental offers affordable family dentistry and gentle, compassionate dental care in Indiana. Our offices are conveniently located with extended hours to meet your needs. At Wadas Dental, we provide most dental services, from basic preventative care and general dentistry to specialized procedures and complete dental reconstruction. We accept most dental insurance plans and offer affordable financial solutions for any budget. Patient satisfaction is our top priority and we strive to provide the exceptional, affordable dental care and personal touch that lead to lasting relationships. A smiling patient is our greatest reward and we look forward to keeping those smiles healthy, beautiful, and bright. Discover an affordable dentist who truly cares at Wadas Dental.