8 Tips that Your Child is Skipping Tooth Brushing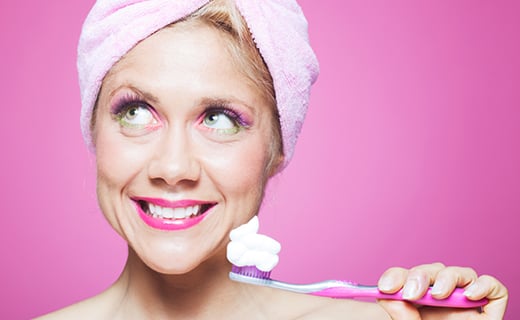 Tooth brushing is one of those singularly important chores that every parent teaches their child. Not only is tooth brushing a lesson in good dental care, it also an opportunity to teach your child about responsibility and hand off a certain level of independence. And, while many children take tooth brushing seriously—carefully caring for their dental hygiene as instructed, others will test the waters of what independence really means; i.e., "is this optional?" As a parent, you know that good dental care is imperative to your child's overall health, from their teeth to their toes.  If you want to make sure that your child is skipping out on brushing their teeth, use this guide for clues they may be cutting corners on their dental care routine.
Tips That Your Child isn't Brushing Their Teeth
The toothbrush is dry. If you notice that your child's toothbrush is dry, it's a sure sign he or she hasn't brushed. Check their toothbrush and follow up with your child.
Your child is finished brushing quickly. Even baby teeth need to be brushed for at least two minutes. If you discover your child is rapidly done brushing, help them understand the importance of proper dental care, including brushing every area of their mouth carefully. You can use music to inspire them to brush for the full two minutes.
Food particles are still in your child's teeth. If your child emerges from the bathroom proudly proclaiming completion of a thorough tooth brushing—ask for a smile. If food particles remain, send your child back to the bathroom for a brushing do-over.
Your child's tongue is white. Clean tongues are pink. Tongues with bacteria lurking are white. Make sure your child knows to brush their tongue as well as their teeth for complete dental care.
Do the "squeak test." Ask your child to wet their finger and rub it quickly across their teeth. If you hear a squeaking sound, your child has "squeaky-clean" teeth and has carefully brushed their teeth.
Never-ending dental floss. Flossing daily is as important as twice-daily brushing, so monitor the bathroom garbage can for floss strings. You can also floss at the same time and keep pace with your child—the two of you should run out of floss at about the same time.
Your child has bad breath. Bad breath, especially at a young age, is often the result of bacteria buildup caused by food particles that may still be hanging around. Do a breath check and send your child in for a brushing if it's anything less than pleasant.
Your child has cavities. If your child develops dental issues, such as cavities or tooth pain, seek the advice of an affordable dentist in Indiana. This is an obvious sign that your child is skipping all or part of their dental care routine. Your family dentistry experts can offer additional tips to help keep your kids excited about brushing.
To learn about our family dentistry practice in Indiana, call Wadas Dental today or make an appointment.
---
Wadas Dental offers affordable family dentistry and gentle, compassionate dental care in Indiana. Our offices are conveniently located with extended hours to meet your needs. At Wadas Dental, we provide most dental services, from basic preventative care and general dentistry to specialized procedures and complete dental reconstruction. We accept most dental insurance plans and offer affordable financial solutions for any budget. Patient satisfaction is our top priority and we strive to provide the exceptional, affordable dental care and personal touch that lead to lasting relationships. A smiling patient is our greatest reward and we look forward to keeping those smiles healthy, beautiful, and bright. Discover an affordable dentist who truly cares at Wadas Dental.