Posted under:
General
Posted on: July 29, 2014
Are Your Teeth as Clean as They Could Be? Turn Up the Lights to Be Sure.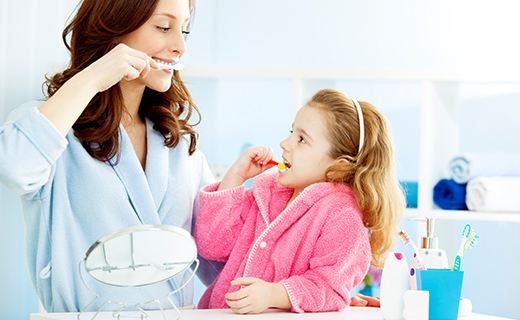 It may sound overly simple, but if your bathroom is a place where you want to spend time, you'll be more likely to practice better dental care. That's because a well-organized, beautiful setting encourages you to spend more time on yourself, and that includes your teeth. Here are a few simple tips to help you turn your boring, outdated bathroom into a place that lifts your spirits. By taking the time to brighten up one of the most-used rooms in your home, you'll likely wind up with a brighter smile, too.
1. See the Light on Lighting – Lighting can brighten up both your bathroom and your mood. A well-lighted space can help wake you up in the morning and make it faster to get ready to go out at night. It can also make a major difference in your dental care because the extra light can help you make sure that your teeth are completely clean when you're brushing and flossing. There are a variety of lighting options, from installing overhead lights to adding energy-efficient LEDs, but any way you can bring more light into your bathroom will make it more usable and enjoyable. Accent lighting can add drama to a bathroom by spotlighting beautiful tile work or features, while ambient lighting can add a natural brightness and create a larger look.
2. Fix Up Your Fixtures – While part of a bathroom makeover may be based in personal vanity, it actually comes down to the physical vanity. Consider how much time you spend standing at your bathroom vanity, whether it's for your dental care routine, washing your face, or simply checking your appearance in the mirror. If the vanity is looking old or worn, you can't feel good about your surroundings. But if it's new and attractive, you'll enjoy the time you spend in your bathroom and probably devote additional time to your dental care. The bathroom vanity is a perfect place to renovate because it can completely change the look and feel of the room. Start by selecting a base material that will complement the style and color scheme of your bathroom, along with a countertop that is both beautiful and durable. Then, add a stylish touch with a unique faucet or modern sink.
3. Stock Up on Storage – Your bathroom should be a calming personal place, but a disorganized look or lack of storage can make it feel chaotic. The easiest way to make your bathroom into a happy and healthy haven is by adding storage. There are endless storage options, from installing a few well-placed wall shelves to adding multiple racks with basket-type compartments. The amount of storage you add depends on your personal needs and the amount of clutter. You can also add special dispensers for dental care products to ensure that your bathroom will neatly meet your oral hygiene needs.
You may be surprised by how enhancing your bathroom can improve both your happiness and your dental health. If you gain satisfaction and pride from being in the space then you'll spend more time in the room taking care of your teeth. And you can maintain your dental care by finding a trusted, affordable dentist in Indiana.
To learn about our family dentistry practice in Indiana, call Wadas Dental today or make an appointment.
---
Wadas Dental offers affordable family dentistry and gentle, compassionate dental care in Indiana. Our offices are conveniently located with extended hours to meet your needs. At Wadas Dental, we provide most dental services, from basic preventative care and general dentistry to specialized procedures and complete dental reconstruction. We accept most dental insurance plans and offer affordable financial solutions for any budget. Patient satisfaction is our top priority and we strive to provide the exceptional, affordable dental care and personal touch that lead to lasting relationships. A smiling patient is our greatest reward and we look forward to keeping those smiles healthy, beautiful, and bright. Discover an affordable dentist who truly cares at Wadas Dental.