Best weapon against plaque build-up is flossing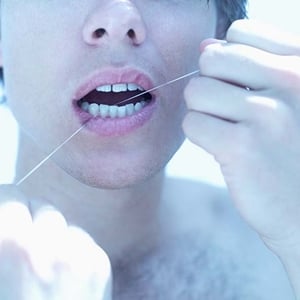 The most important weapon against plaque build-up that can cause tooth decay and gum disease isn't the toothbrush. It's the dental floss that finishes the job, according to KnowYourTeeth.com. Brushing is certainly important for dental hygiene. But after the brush cleans the tops and sides of teeth, it's the floss that gets between to clean out food particles that breed bacteria.
Unfortunately, people are more inclined to ignore this healthy part of their dental routine when they are in a rush to leave home in the morning or too tired to wrangle with dental floss before bedtime. What they should remember is that flossing only takes two or three minutes to get through the whole mouth once it becomes a daily habit.
Dentists recommend flossing at least once each day, and preferably twice. The floss carries away plaque that could otherwise build up throughout the day. Halting tooth decay and gingivitis, the most common form of gum disease, can result in fewer trips to the dentist office.
About 18 inches of dental floss will allow one to wind the floss well around fingers on each hand and create the tautness needed to maneuver near each tooth. It's important to get slightly under the gumline by gently curving the floss around the bottom of each tooth, then slide the dental floss up and down between the teeth to fight plaque build-up there as well.
Flossing choices
There are the two types of floss, and each has advantages. Nylon (multifilament) floss comes in different flavors and is available in unwaxed or waxed versions. Waxed floss works better between teeth with fillings or crowns. However, it's more likely to shred at close contact points when the separate nylon strands may separate. PTFE (monofilament) slides most easily and doesn't shred. For this convenience, it's a little more expensive.
There are also wide-sized flosses available for people who have a lot of dental bridges or wide spaces between each tooth.
An alternative is to use flossers, which are disposable flossing tools that hold a short strand taut within the tool, which resembles a tiny saw. A small handle allows one to slide the floss between teeth and maneuver easily into tight spots.
While not as effective as flossing, water picks also remove food particles by loosening them with a stream of water aimed at spaces between teeth. They are especially helpful in cleaning out food bits that get caught in orthodontic braces.
To get the dental care you deserve from an affordable dentist in Indiana, call Wadas Dental today or make an appointment.
---
Wadas Dental offers affordable family dentistry and gentle, compassionate dental care in Indiana. Our offices are conveniently located with extended hours to meet your needs. At Wadas Dental, we provide most dental services, from basic preventative care and general dentistry to specialized procedures and complete dental reconstruction. We accept most dental insurance plans and offer affordable financial solutions for any budget. Patient satisfaction is our top priority and we strive to provide the exceptional, affordable dental care and personal touch that lead to lasting relationships. A smiling patient is our greatest reward and we look forward to keeping those smiles healthy, beautiful, and bright. Discover an affordable dentist who truly cares at Wadas Dental.