Posted under:
General
Posted on: April 28, 2015
Dental Phobia – Has Your Fear Rubbed Off on Your Kids?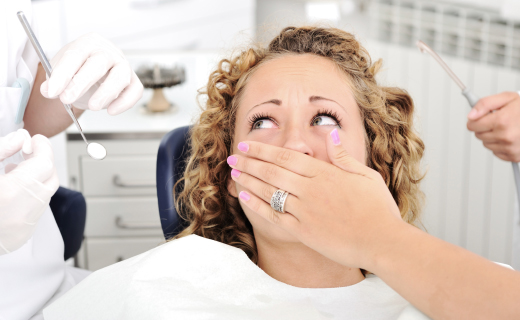 Does the sound of a dental drill send your kids running for cover? According to a nationwide survey conducted by Delta Dental, your children didn't develop dental fear on their own; they may have gotten it from you. Released in conjunction with National Anxiety Month in April, the study found that almost half of parents polled claim to be nervous before dental appointments. The same percentage of children shares the dread. Dr. Bill Kohn, DDS reminds parents that it's easy for children to pick up on a parent's anxiety, and it's important to stay calm and relaxed during visits to help put them at ease.
Defeating Dental Fear
Routine dental exams are essential for oral health, but almost 36 percent of kids are afraid of getting them. According to parents participating in the Delta Dental survey, fear of pain is the most common reason for anxiety. Lesser concerns include long visit times and the possibility of needing further treatment. Some kids are worried they won't like the dentist. Fear of dentist equipment such as drills and suction devices can make things even worse. If children associate dentistry with negative feelings, it could cause them to avoid dental care throughout life. Following are tips to make dental visits less frightening.
Inform your dentist about your child's dental phobia before the visit.
Avoid negative talk. Never use words that will frighten your child when talking about the dentist. Focus on positive aspects of dental care.
Expose your child to dentistry early. Make the first appointment no later than his or her first birthday.
Practice at home. Before an appointment, pretend to be the dentist and count your child's teeth.
Combating Adult Fear of Dentist
Managing your own dental phobia can help you avoid passing the fear of dentist issues down to your kids. There are several ways to ease your anxiety. First, make sure your dentist knows you are nervous, so he or she can help you relax. To avoid feeling anxious all day, book early morning appointments. Have a friend or loved one join you for the visit. Agree on a hand signal or other sign that lets your dentist know you are feeling overwhelmed or uncomfortable during treatment. If your dental fear is severe, talk to your dentist about sedation options, or seek counseling from a mental health professional.
To learn about our family dentistry practice in Indiana, call Wadas Dental today or make an appointment.
---
Wadas Dental offers affordable family dentistry and gentle, compassionate dental care in Indiana. Our offices are conveniently located with extended hours to meet your needs. At Wadas Dental, we provide most dental services, from basic preventative care and general dentistry to specialized procedures and complete dental reconstruction. We accept most dental insurance plans and offer affordable financial solutions for any budget. Patient satisfaction is our top priority and we strive to provide the exceptional, affordable dental care and personal touch that lead to lasting relationships. A smiling patient is our greatest reward and we look forward to keeping those smiles healthy, beautiful, and bright. Discover an affordable dentist who truly cares at Wadas Dental.