Facing dental fears is healthier than avoiding trips to the dentist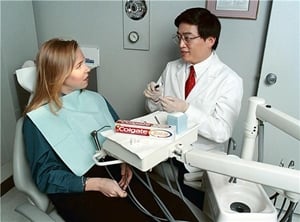 It's not uncommon for people to avoid the dentist for a common reason – fear. An estimated five to eight percent of Americans do it all the time, according to the Dental Fears Research Clinic at the University of Washington. And as many as 20 percent are so anxious about stepping inside a dentist office that they delay it until they have a significant dental problem that drives them there.
Dr. Peter Milgrom, D.D.S., who directs the Washington university's program, specializes in treating patients whose fear of seeing a dentist is particularly severe. He's written a book about them entitled Treating Fearful Dental Patients. If there's one thing they have in common, he told WebMD.com, it's that as many as two-thirds blame their intense fear of dentistry on a previous bad experience they had visiting a dentist.
The center treats children as well as adults, because many people who are afraid of the dentist have been fearful of having dental work done since they were youngsters.
Whatever their experience, patients who are afraid to go to the dentist office are often apprehensive about similar things. They see ominous-looking machinery hovering over them while they are stretched back and tense in an uncomfortable position with no easy way to get away. Someone they may not know every well is sticking sharp instruments into their mouths.
But these descriptions, while true, don't have to be negative. Patients can talk out their fears with their dentist ahead of time. They can ask to have a dental assistant explain what the overhanging machinery does. By raising their hands when they are particularly uncomfortable or scared, they can get a short break from the dental work that's under way.
Coping strategies
Staying away from the dentist is probably the worst way to deal with such fears. Not having regular check-ups increases the chance of tooth decay and other dental problems that will only require more time in the dentist chair, more expense and possibly more discomfort.
There are a number of coping strategies that can be tried by someone to push their fears away during dental work. Light meditation techniques include breathing deeply and slowly to ease tension while focusing on something completely outside the immediate environment. Some people relax by listening to music on an iPod. Others may distract themselves by constructing a scenario in their minds, such as redesigning a room at home.
Allaying children's fears
Parents should be careful not to pass on their fear of dental work to their children. Shielding them from this anxiety will help them accept visits to their pediatric dentist as a regular part of taking care of themselves.
It's also important to be honest with youngsters. They may experience some discomfort, so it's best not to promise them that nothing will hurt. But stressing the good health and cleanliness that comes from a visit to the dentist will help them see it as a positive experience.
The best dentist for a child is one who addresses the youngster in a friendly tone, possibly telling them a story or starting a conversation on their level to ease their anxiousness, states WebMD. That helps to draw attention away from the procedure and develop trust in the practitioner. Praising the child's patience and good behavior also helps to make them comfortable with their surroundings.
There are also many children's books available that are about a trip to the dentist, making the experience sound like it should be part of a child's normal routine. Such books describe dentistry in ways that children will understand and can prepare them for all aspects of an upcoming visit.
To get the dental care you deserve from an affordable dentist in Indiana, call Wadas Dental today or make an appointment.
---
Wadas Dental offers affordable family dentistry and gentle, compassionate dental care in Indiana. Our offices are conveniently located with extended hours to meet your needs. At Wadas Dental, we provide most dental services, from basic preventative care and general dentistry to specialized procedures and complete dental reconstruction. We accept most dental insurance plans and offer affordable financial solutions for any budget. Patient satisfaction is our top priority and we strive to provide the exceptional, affordable dental care and personal touch that lead to lasting relationships. A smiling patient is our greatest reward and we look forward to keeping those smiles healthy, beautiful, and bright. Discover an affordable dentist who truly cares at Wadas Dental.