Give Your Child the Skills to Maintain Healthy Teeth for a Lifetime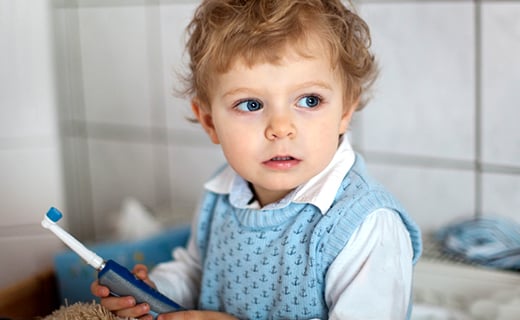 Did you know that the number of children affected by tooth decay and gum disease has soared in the last decade? Although numbers have dropped among the adult population, more and more children are being diagnosed with signs of tooth decay and gum disease before the age of 11. These startling statistics are cause for action. Proper dental care habits begin at home, at a very early age.  Your child can begin learning dental care techniques even before their first tooth emerges. From brushing and flossing to routine visits to an affordable dentist in Indiana you can instill good habits in your child now that will last a lifetime.
Teach proper dental care habits early. One-quarter of kids have signs of tooth decay before they enter kindergarten—a startling statistic that is largely preventable. Even more alarming is the fact that half of all children between the ages of 12 and 15 have cavities. These stats may be related to poor dental care habits across all age groups. Many people don't realize that dental care isn't just about the teeth, it includes the gums and jawbone, too, so caring for your child's teeth can begin shortly after birth. You can wipe your baby's gums with a soft cloth after feeding and familiarize your baby with the sensation of proper dental care. As early as age two, family dentistry experts recommend that children try brushing for themselves. Parents should supervise to ensure that clean teeth and good dental care habits develop.
Use the right amount of fluoride. Fluoride has been shown to strengthen enamel and prevent tooth decay effectively, and is the single greatest advancement in dentistry in the last century. In the 1930s, the discovery led lawmakers to add fluoride to the public water system in most cities. Today three out of four Americans enjoy fluoridated water from their public water sources, and tooth decay has declined substantially. If your water isn't fluoridated, talk to your dentist about affordable fluoride treatments. ADA-approved toothpastes and mouthwashes also contain fluoride. However, be cautious when choosing dental care products for young children—too much fluoride before the age of six can lead to tooth discoloration.
Ask your family dentistry expert about sealants. According to the Centers for Disease Control and Prevention, dental sealants can significantly reduce the risk of tooth decay. Ask your family dentistry practitioner about dental sealants. These plastic protective coatings for teeth can ward off tooth decay and last as long as ten years.
By brushing and flossing daily, along with twice-yearly visits to an affordable dentist, you can ensure that your children learn dental care habits that will give them a beautiful smile for life.
To get the dental care you deserve from an affordable dentist in Indiana, call Wadas Dental today or make an appointment.
---
Wadas Dental offers affordable family dentistry and gentle, compassionate dental care in Indiana. Our offices are conveniently located with extended hours to meet your needs. At Wadas Dental, we provide most dental services, from basic preventative care and general dentistry to specialized procedures and complete dental reconstruction. We accept most dental insurance plans and offer affordable financial solutions for any budget. Patient satisfaction is our top priority and we strive to provide the exceptional, affordable dental care and personal touch that lead to lasting relationships. A smiling patient is our greatest reward and we look forward to keeping those smiles healthy, beautiful, and bright. Discover an affordable dentist who truly cares at Wadas Dental.