Posted under:
General
Posted on: December 28, 2020
Invisalign: Frequently Asked Questions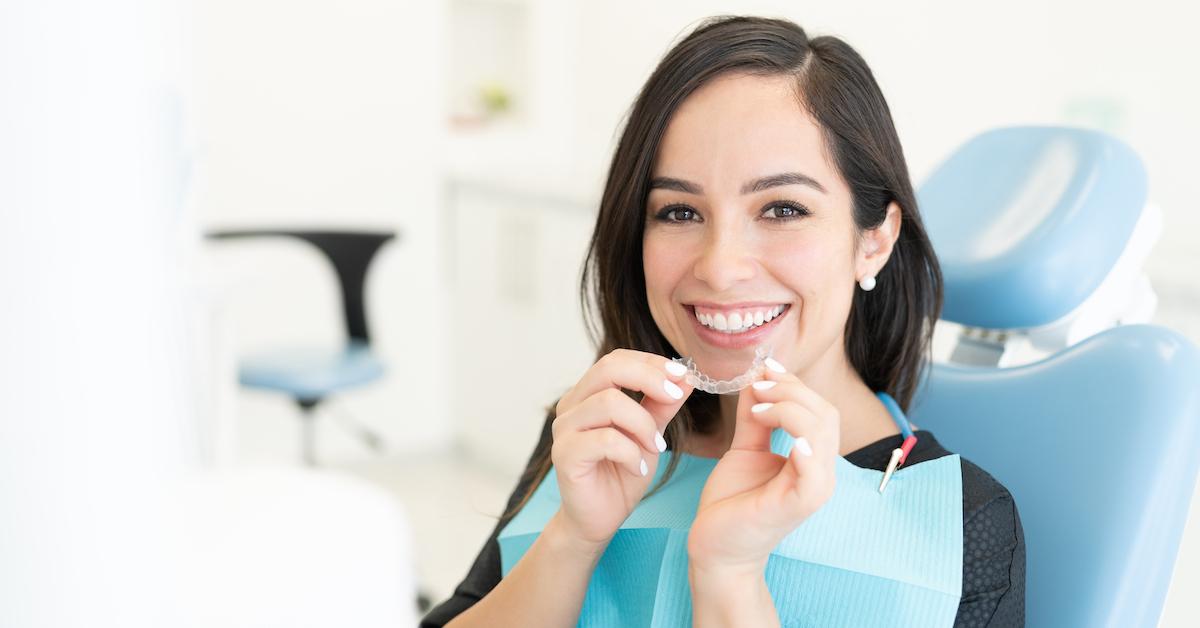 No matter how stylish and trendy your outfit, it will always look better with a dazzling smile. If you're self-conscious because of your crooked or misaligned teeth, then the Invisalign system of aligner trays may provide an excellent solution and a glorious smile. Best of all, the aligner trays are virtually invisible, so no one will know that you're wearing them.
Is Invisalign a Type of Braces?
Invisalign aligner trays accomplish the same thing as braces, but they're not braces. Rather, they're a set of trays similar to whitening trays that will gradually alter the alignment of your teeth so that you'll have straight and even teeth when your treatment has concluded.
Developed about 30 years ago, the aligner trays were intended for those who want straight teeth but don't want the discomfort and lack of aesthetic appeal that's standard with traditional metal braces. Anecdotally, the developers wore the trays during their sales presentation to investors and then removed the trays at the end of the presentation. The investors were sold, and Invisalign was born.
The trays are made from SmartTrack, a modern polymer that's FDA-approved for dental appliances and is free of BPA, BPS, gluten, and latex. The major selling points for the Invisalign aligner trays are their comfort and their invisibility.
Does Invisalign Work for Everyone?
Most adults and older teens are good candidates for the Invisalign system, but if you have severe orthodontic issues, there may be other systems that will work better for you. If you're considering Invisalign for yourself or your child, then the answers to the following questions can help provide some direction.
Have your teeth stopped growing? One reason that Invisalign isn't usually used in children and young teens is that their teeth are still forming and erupting, so it's difficult to fabricate a set of aligner trays. However, for adults and older teens, especially those who are concerned with their appearance, Invisalign can work quite well.
Will you wear your trays for the time required? Whatever your age, you must be willing to wear your aligner trays for 20 to 22 hours every day. The aligner trays won't work if you don't wear them. This is another reason that they're not usually prescribed for young children who may lack the discipline to wear them as they should.
Does invisibility matter to you? For some people, the wire-and-bracket appearance of metal braces isn't important, so they may not be ideal candidates for Invisalign. However, if the invisibility factor is important to you and you like the idea of removing the trays for important events, then the trays may work well for you.
Your dentist will recommend the feasibility of Invisalign for your unique needs after they examine your teeth and gums. If you both decide that you want to proceed, then we'll start with your treatment. If you have any additional questions, this is a good time to ask them.
What Happens When I Get Invisalign?
If you and your dentist have opted to proceed with Invisalign, then you'll experience the following. Your specific procedure may vary slightly depending on your unique situation, such as if you need other procedures first. However, you can generally expect the following:
If you and your dentist have decided that Invisalign will work well for you, then we'll make a mold of your teeth and gums. The mold will be used to fabricate your aligner trays. Since your trays are made to the contours of your teeth and gums, they should be as comfortable as your natural teeth.
Every one to two weeks, you'll receive new aligner trays that will have a slightly different contour. This gently encourages your teeth to move into proper alignment, but the move is very gradual.
You'll probably notice an increase in pressure for the first day or so, but this is normal. It's due to the slightly different contour of the new trays and will dissipate.
Every four to six weeks, we'll schedule you for a progress checkup in our office so that we can make any adjustments that may be necessary.
You should notice an improvement in your tooth alignment by the date of your first progress checkup.
Will Invisalign Affect My Daily Routine?
The Invisalign process isn't invasive, so you shouldn't need to make a drastic change in your life. However, there are a few minor lifestyle habits that you may need to adjust, at least temporarily, such as:
If you chew, dip, smoke, or vape, then you'll need to stop, at least for the duration of your procedure. Tobacco products stain your trays the same way they stain your teeth. However, it's a great time to quit permanently if you are already going to stop for the duration of your treatment.
Avoid chewing gum when you're wearing your trays. If you must chew a stick of gum, then remove your trays first.
Don't eat or drink anything other than plain water when your trays are in. The pressure from chewing can damage your trays, as can the food you eat, so don't eat anything if you're wearing your trays. Hot beverages can warp your trays, and food particles can become lodged underneath them, causing decay and cavities to form.
Every time you eat or drink anything, brush and floss before replacing your trays. We recommend that you also use an antibacterial mouthwash before reinserting your trays.
What Happens at the End of My Treatment?
When you have completed your Invisalign treatment, your dentist may recommend that you wear a retainer for up to a year. The retainer is worn only at night, but it keeps your teeth from reverting to their previously misaligned position, so it's important to wear it as prescribed.
Who Provides Invisalign?
Only those dental and orthodontic professionals who have completed Invisalign's training will be certified to install Invisalign. If a dentist doesn't have a certification from Invisalign, then they can't provide you with the genuine Invisalign aligner trays. If you're interested in the Invisalign system of aligner trays, then call Wadas Dental at and schedule a consultation. We can help you achieve the smile you've always dreamed of, so call us today.
We look forward to speaking with you and working with you.