Regular Flossing and Other Tips to Combat Bad Breath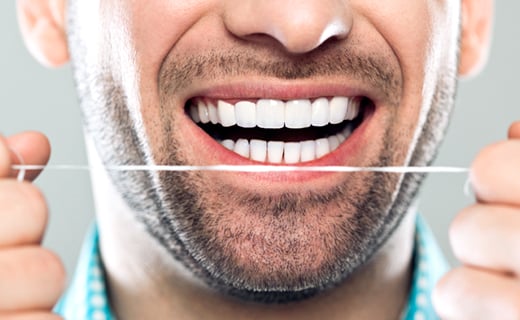 If you needed further evidence that flossing your teeth every day should be an important part of your dental care regimen, consider the fact that dental floss can actually be one of your strongest allies in the fight against bad breath. Because flossing serves to eradicate lingering food particles and the resulting bacteria that typically lead to foul breath, it really is a simple, quick way to keep yourself from offending friends, family, and colleagues alike. You may even want to start spreading the word about the effectiveness of flossing, giving dentists everywhere a reason to smile.
It is also worth noting that when it comes to keeping halitosis at bay, saliva is essential. As affordable dentists everywhere will attest, whenever saliva is lacking, plaque and bacteria are more likely to accumulate in the mouth, which in turn produces unpleasant breath. Some of the most common situations in which saliva may be in short supply are those in which alcohol is being consumed, when you are especially thirsty or hungry, or when you have just awakened. At these times, it really does pay to take the few brief moments required for a thorough flossing. Those closest to you will surely be grateful that you did.
Dieters can also greatly benefit from regular flossing, because not only will it remove bacteria that can cause tooth decay, but mint-flavored versions can distract from the bad breath that low-carb diets are commonly known to produce. Not only that, the fresh taste may even prevent unnecessary snacking, paving the way to greater weight-loss success.
Bear in mind that not all cases of bad breath are due to a simple failure to floss. There are many cases in which bad breath is indicative of a more serious underlying health or dental concern such as strep throat, oral cancer, tooth decay, gum disease, diabetes, HIV, or digestive trouble. Therefore, if you are experiencing chronic halitosis despite following a rigorous dental care routine, it may be time to consult with your personal team of physicians and dentists.
Given the significant social, self-esteem, health. and dental benefits that can come from regular flossing, there really is no reason not to make this particular habit a cornerstone of your daily dental care routine.
To get the dental care you deserve from an affordable dentist in Indiana, call Wadas Dental today or make an appointment.
---
Wadas Dental offers affordable family dentistry and gentle, compassionate dental care in Indiana. Our offices are conveniently located with extended hours to meet your needs. At Wadas Dental, we provide most dental services, from basic preventative care and general dentistry to specialized procedures and complete dental reconstruction. We accept most dental insurance plans and offer affordable financial solutions for any budget. Patient satisfaction is our top priority and we strive to provide the exceptional, affordable dental care and personal touch that lead to lasting relationships. A smiling patient is our greatest reward and we look forward to keeping those smiles healthy, beautiful, and bright. Discover an affordable dentist who truly cares at Wadas Dental.