Teeth Replacements – Dentures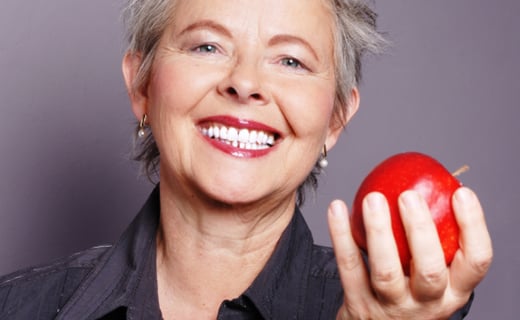 Dentures are a common solution for lost or missing teeth. While there is nothing better than your natural teeth, dentures offer comfort and function—and the denture cost is much lower than dental implants. Additionally, modern dentures have vastly improved over the years, giving users a more natural look and feel, as well as ease of care. When you first get your dentures, you may have to make some adjustments and "re-learn" certain basics of daily life, such as speaking and chewing, but the benefits certainly outweigh the inconvenience. If you are considering replacements for your lost or missing teeth, ask your dentist in Indiana about denture cost and if they are the right choice for you.
When you get your first pair of dentures, you may have to endure an adjustment period in which you re-learn how to eat, drink, and speak with the appliance in place. You will also need to be aware of the steps necessary to keep your gums healthy, so your denture set remains an effective replacement of your natural teeth. Use these tips to successfully adjust to life with dentures:
Eating. Eating with your dentures is a learned process. You should begin with soft foods, such as eggs or yogurt. Teach yourself to chew with the food distributed evenly on either side of the mouth to keep the dentures in perfect position. Sticky and hard-to-chew foods should be avoided as they can cause damage to the denture. After an adjustment period, you can slowly begin to integrate more solid foods into your diet. However, you will always need to take small bites and eat slowly to prevent any denture issues.
Speaking. Before you begin engaging in the social scene with your new dentures, take some time to learn how to speak with your dentures in place. Certain words may become difficult to say. Spend time in front of a mirror observing your speech patterns and practicing keeping your dentures in place as you move your tongue and mouth. Grandiose gestures of the mouth, like laughing and yawning, may cause the dentures to become dislodged until you become comfortable with them.
All-day denture wear. Dentures may be worn all day, but should be removed each night to protect the other tissues of the mouth. For the first few days, you will need to wear your dentures around the clock—including to bed to determine comfort and need for denture adjustment.
Cleaning. Dentures must be carefully stored each night and cleaned daily. Just like your real teeth, your dentures need daily care and attention to remain effective. Use a soft toothbrush to clean your dentures and always rinse your mouth with a mouthwash to clean and protect the tissues of the mouth.
To get the dental care you deserve from an affordable dentist in Indiana, call Wadas Dental today or make an appointment.
---
Wadas Dental offers affordable family dentistry and gentle, compassionate dental care in Indiana. Our offices are conveniently located with extended hours to meet your needs. At Wadas Dental, we provide most dental services, from basic preventative care and general dentistry to specialized procedures and complete dental reconstruction. We accept most dental insurance plans and offer affordable financial solutions for any budget. Patient satisfaction is our top priority and we strive to provide the exceptional, affordable dental care and personal touch that lead to lasting relationships. A smiling patient is our greatest reward and we look forward to keeping those smiles healthy, beautiful, and bright. Discover an affordable dentist who truly cares at Wadas Dental.