Top Tips for Care of Braces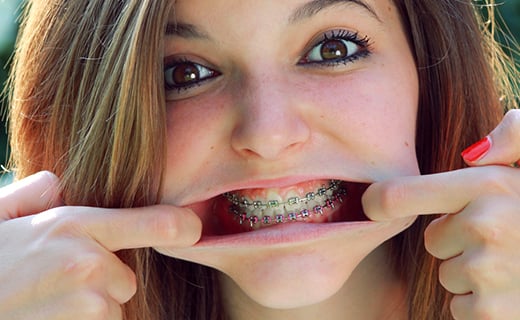 The experience of braces, retainers, and other dental appliances is always an experience of dedication between you and your family orthodontics team. You have to ensure that you do not eat certain foods, do not chew gum, and you must brush, floss and rinse a lot.  Your dental care team helps make sure you stay on schedule and that all the "torture" of dental appliances results in an award-winning smile. With that said, what would your orthodontist want you to know to optimally care for your dental appliances? Use these expert tips to keep your orthodontics and oral care in tip-top shape.
Brushing with Braces: Use a regular soft toothbrush on each tooth, brushing down from the top, then up from the bottom. Next, brush your teeth with a special Proxabrush, designed to clean between two braces. Insert the brush down from the top and then up from the bottom between two braces. Make several strokes in both directions before moving to the next space. Repeat until all areas are cleaned.
Flossing with Braces: Feed the short end of the floss through the space between the upper part of the tooth closest to the gum and the main arch wire. Gently work the floss between the two teeth using a gentle back-and-forth motion. Be careful as you pull, so you don't disturb the arch wire.
Food Items to Avoid with Braces:
Corn on the cob
Raw carrots
Tough-to-bite foods, such as apples or bagels
Chewy foods, like taffy or caramels
Hard pretzels
Popcorn
Nuts
Chewing gum
Do not chew ice
What If a Bracket or Wire Breaks?
Tips for dealing with common problems until you are able to see your orthodontist.
Protruding or broken wire. Use the eraser end of a pencil to carefully move the wire to improve comfort. Do not cut the wire because you could accidentally swallow it or inhale it into your lungs. Apply orthodontic wax to prevent the wire from rubbing in your mouth. Contact your orthodontist right away for an appointment.
Loose brackets. Use the orthodontic wax provided by your orthodontist when you got your braces, to temporarily reattach loose brackets or to provide a cushion between the bracket and the soft tissues of the mouth.
Loose bands. Save the band and visit your orthodontist for repair.
Loose spacers. Have spacers repositioned or replaced if they slip or fall out.
Retainer Care: Each time you brush your teeth, also brush your retainer.Daily—or at least once a week—soak your retainer in a denture cleanser and warm water to disinfect it. Rinse the retainer thoroughly with plain water before placing it in your mouth.
To get the dental care you deserve from an affordable dentist in Indiana, call Wadas Dental today or make an appointment.
---
Wadas Dental offers affordable family dentistry and gentle, compassionate dental care in Indiana. Our offices are conveniently located with extended hours to meet your needs. At Wadas Dental, we provide most dental services, from basic preventative care and general dentistry to specialized procedures and complete dental reconstruction. We accept most dental insurance plans and offer affordable financial solutions for any budget. Patient satisfaction is our top priority and we strive to provide the exceptional, affordable dental care and personal touch that lead to lasting relationships. A smiling patient is our greatest reward and we look forward to keeping those smiles healthy, beautiful, and bright. Discover an affordable dentist who truly cares at Wadas Dental.