Understand the Inner Workings of a Dental Hygienist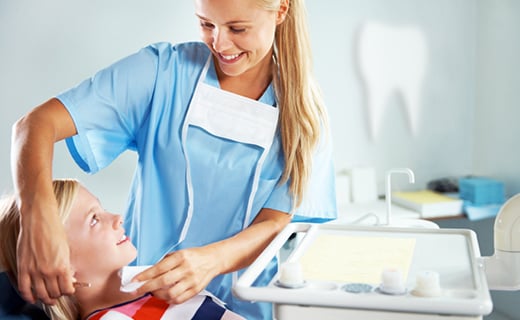 A dental hygienist is a special kind of person. It takes compassion to be sensitive to the fear some people experience when they go to the dentist. It takes stamina to spend hours leaning over patients. It takes manual dexterity and attention to detail to perform teeth cleaning and other dental procedures. And it takes excellent interpersonal skills to communicate with patients and co-workers alike.
Teeth cleaning is the specialty of a dental hygienist, so they focus on removing plaque and tartar from the teeth and gums. They also polish teeth to remove stains and restore the enamel's luster. A dental hygienist also makes prevention a priority, so besides teeth cleaning, they perform examinations to detect signs of dental problems, such as gum disease and tooth decay. They often take X-rays to check for problems with the teeth and jaw.
Another role of the dental hygienist is patient education, providing information about proper dental care practices. A dental hygienist helps patients develop and maintain good dental health habits, from recommending the right dental care tools to warnings about the foods and drinks that cause dental damage.
A dental hygienist needs special training. Private dental practices require that a dental hygienist has at least an associate's degree or certificate in dental hygiene. A bachelor's degree or master's degree is typically needed for teaching, research, or clinical practice in public health programs. All states require dental hygienists to be licensed, but each state's requirements vary.
Working with your dentist in Indiana, the dental hygienist specializes in teeth cleaning, but they really do so much more to help prevent dental health problems.
To learn about our family dentistry practice in Indiana, call Wadas Dental today or make an appointment.
---
Wadas Dental offers affordable family dentistry and gentle, compassionate dental care in Indiana. Our offices are conveniently located with extended hours to meet your needs. At Wadas Dental, we provide most dental services, from basic preventative care and general dentistry to specialized procedures and complete dental reconstruction. We accept most dental insurance plans and offer affordable financial solutions for any budget. Patient satisfaction is our top priority and we strive to provide the exceptional, affordable dental care and personal touch that lead to lasting relationships. A smiling patient is our greatest reward and we look forward to keeping those smiles healthy, beautiful, and bright. Discover an affordable dentist who truly cares at Wadas Dental.